Shops run by skilled artisans producing their artful hand-made objects are getting rare in a time where shops selling the same junky items can be easily found all over the world.
In Venice several expert artisans and craftsmen still produce by hand-despite low cost industrially made items – exquisite feathery masks, shiny glass beads, delicate Burano lace and amazing marbled paper.
Alberto Valese
This is the story of gentle and polite Alberto Valese, descending from a well known family of founders in Venice.
Alberto is a maestro marmorizzatore, a master papermaker. Maestro means in Italian an expert, also a teacher, but it is also a word Venetians use in their dialect when greeting an elderly person in a respectful way (buon giorno maestro).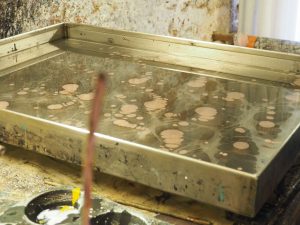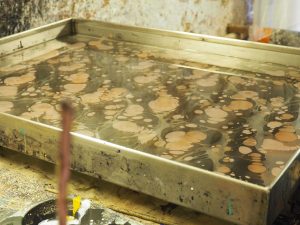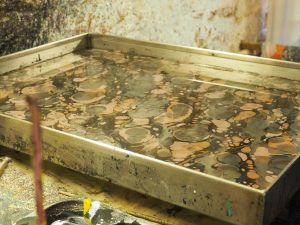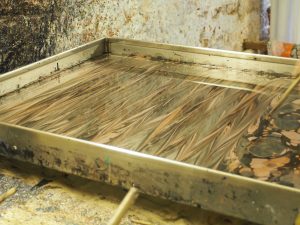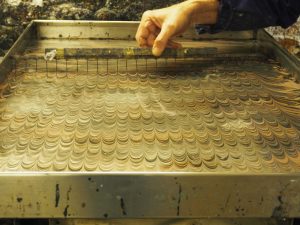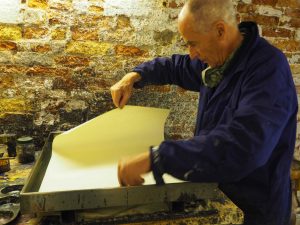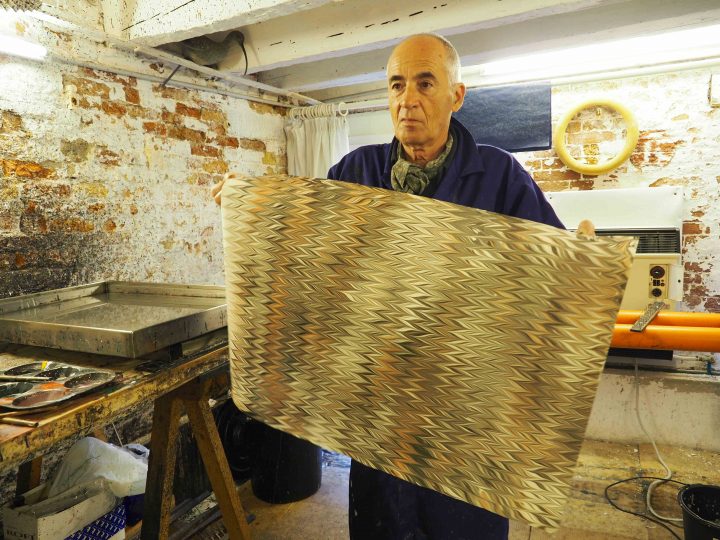 Paper marbling is an old technique that originated in the far East consisting in dripping colours in a marbling tray like a basin filled with dipping liquid such as water or a viscous solution, then passing quickly a sheet of blotting paper to which the colours are transferred.
https://en.wikipedia.org/wiki/Paper_marbling
Alberto greets visitors in the place in the Castello district where he has lived since 1989. He grew up near the Fondamente Nuove, then moved over to Sant'Aponal and at the end of the 80ties moved over to the present place; the ground floor is his 'artistic' atelier, the first floor his apartment.
After having studied Psychology Alberto attended in the 70ies the Scuola Internazionale di Grafica in Venice learning to produce etchings and xylographs; in a modest way he says because he needed 'argent de poche' (pocket money). That is when he started working with a Venetian book binder, Paolo Olbi.
To this period dates back also his involvement in paper marbling following the book Papier de fantasie, printed in Paris in 1852. This book lead him subsequently to his first journey to Istanbul  where he bought the book Turk Sanatinda, Ebru (Ebru is an ancient Persian word meaning a cloud). After having opened his first atelier he returned to Turkey and met Ebru maestro Mustafa Duzgunman.
He changes his shoes, slips into a dark blue smock and the alchemist in him starts creating: every time a new combination of colours and patterns, like a magician he produces out of the blue a new sheet of marbled paper. It can be a geometrical pattern, it can be a flower, two tulips or a tree or a fish.
It's silent work, the shapeless colours floating in the water and Alberto knows how to create.
His mind governs his hands into ritual movements giving form to mere dots of floating colours.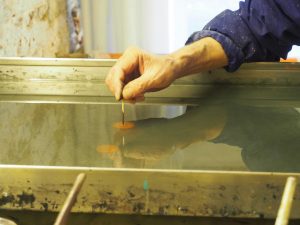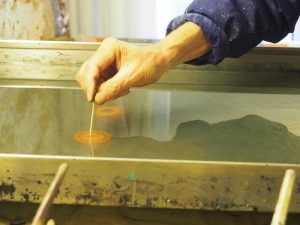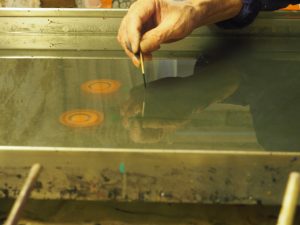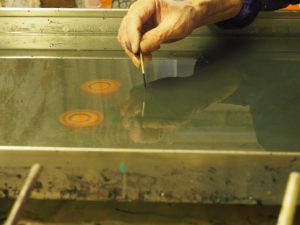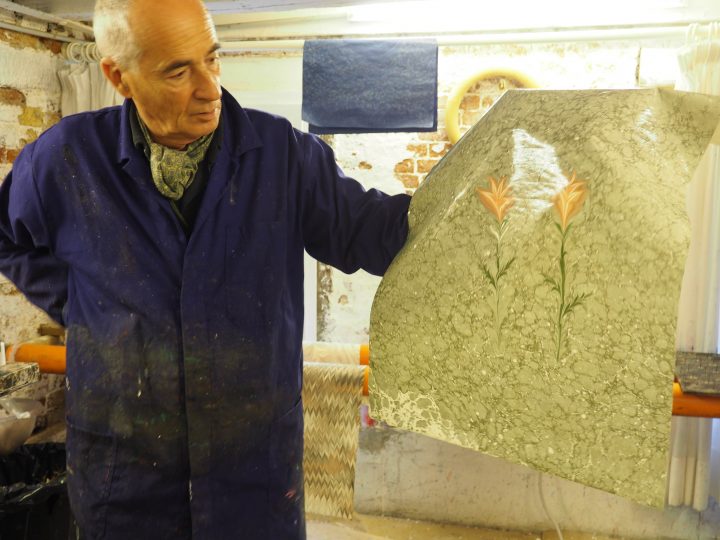 Lighstones
Technical knowledge, fervid creativity and diligent and zealous research have led him to develop this technique into different patterns and applying it to all sorts of objects, materials up to three-dimensional objects such as his stones.
His collection of Lightstones dates back to 2006.
We can visit his place on a tour together, we can learn the binding materials (gum, ox-gall) used here and the ones used in the East; discover why you will not find museums of marbled paper; get to know his nickname and much more.
In case you have no time to tour his atelier you can stop in his shop (in the district of San Marco close to the Church Santo Stefano, San Marco 3471) where you will find a selection of artful blank books and agendas, pretty little boxes, beautiful writing paper, waste paper baskets, all nice small gifts for friends and easy to transport –  and not only paper items but also unusual scarves and delicate neckties in fabrics…
In fact in the 80ies he opened a second shop close to the opera house La Fenice and prepared costumes for the opera Turandot.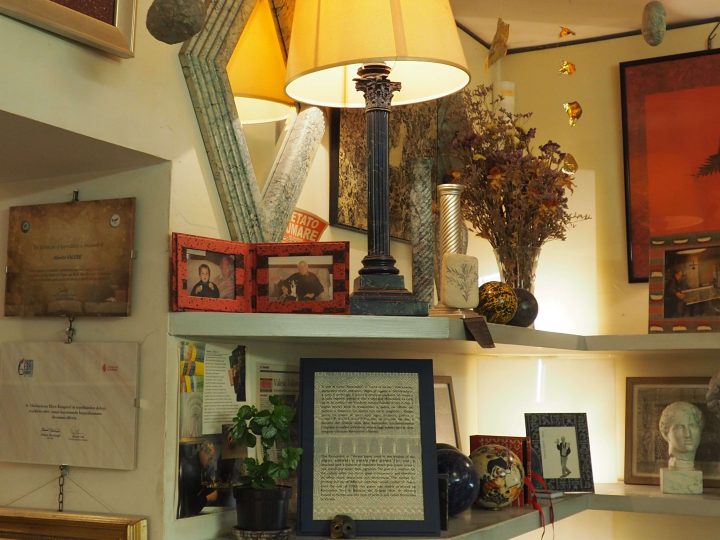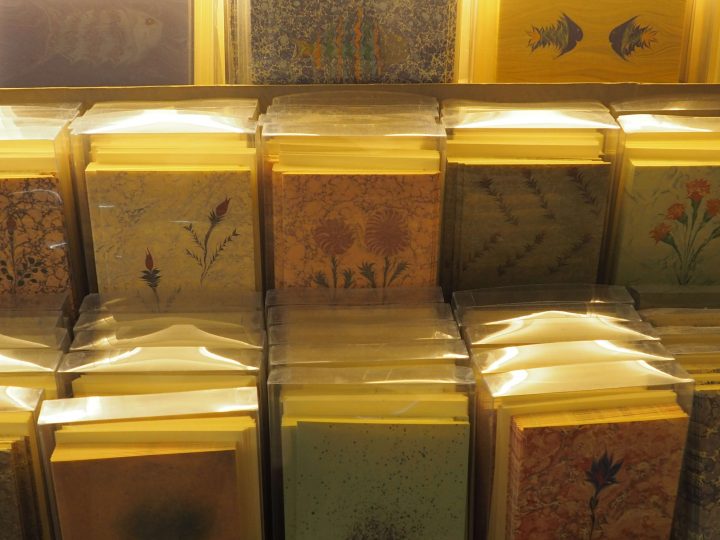 For further info send me an email please.
Fiona Giusto
www.venicetours.it