Virtual tours in Venice
The English word travel meant originally to labour, to make a strenuous journey; it was borrowed from the old French to suffer, to be worn out and it probably relates to the difficulties of moving around in the Middle Ages.
This meaning is now back in the time of Covid-19. We will have to wait a while before returning to our travels and experiences we were used to, but we can still travel virtually with our sight and hearing while sitting comfortably at home on our sofa and planning to taste and 'smell' soon again the atmosphere and feeling of real travel.
An online virtual tour in Venice with me, a licensed, local Venetian guide, via zoom or skype means a powerpoint presentation combined with my explanations and commentaries to bring Venice as close as possible to you.
A tour will last 1 and a half hours. A short break is possible after 50 min/1 hour.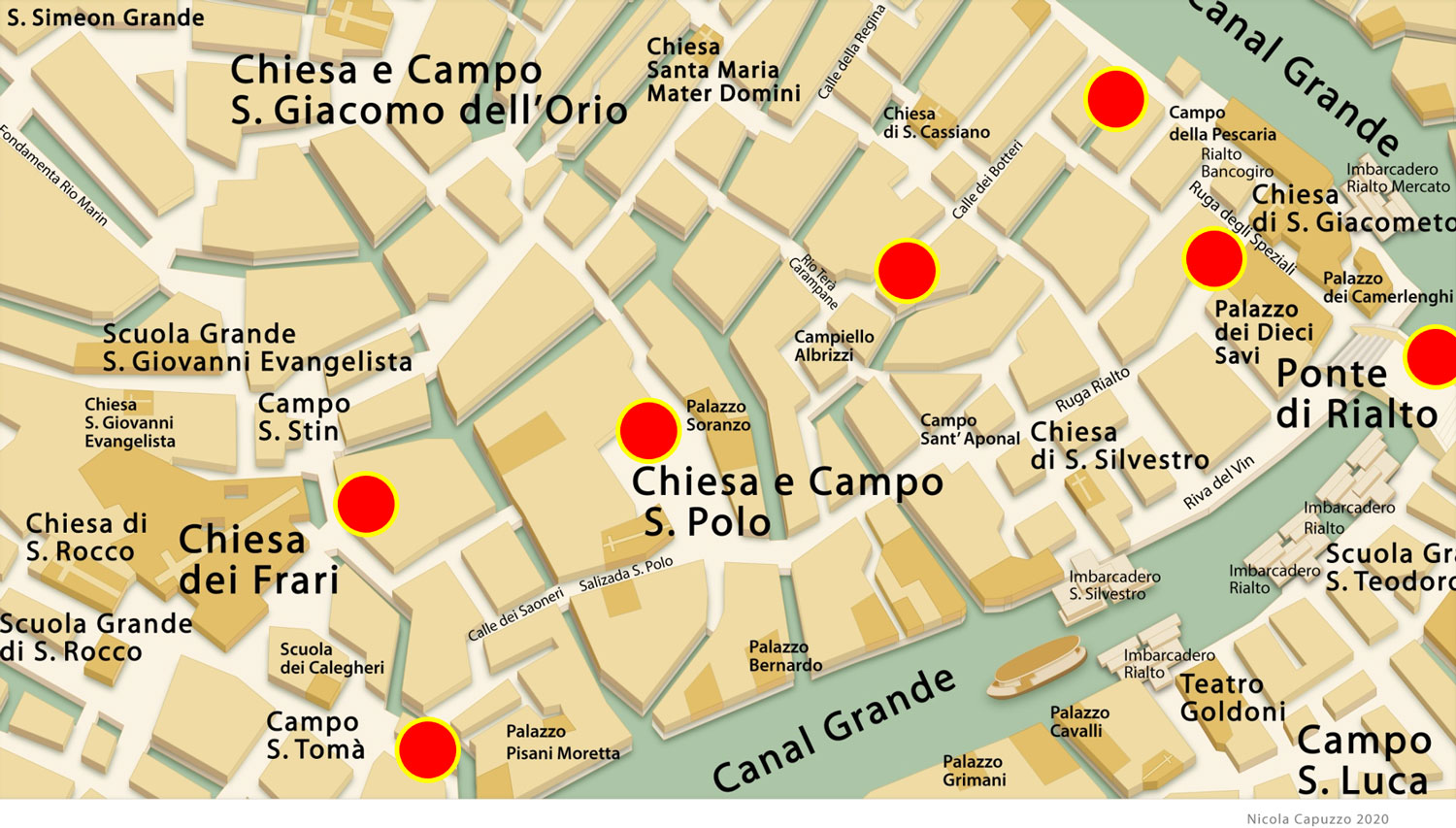 VT1 — Venice at its best
Learn the history and architectural landmarks of Venice on this virtual sightseeing tour from Saint Mark's Square with all of its highlights over to Rialto, walking virtually through the district of San Marco explaining about La Fenice Opera House and the Contarini spiral staircase.
VT2 — Famous Venetians
Connect to the biography and history of three famous Venetians. We will stroll virtually through the adventurous and enterprising life of the explorer Marco Polo, of the cultured, cosmopolitan seducer Giacomo Casanova and of the virtuoso musician Antonio Vivaldi.
VT3 — Rialto and its merchants, merchandise and money
Explore the former financial heart and hub of Venice, the Rialto area with its famous bridge, the Giro square, the colourful fruit, vegetable and fish markets and enjoy the narrow alleyways in the charming district of San Polo.
VT4 — Dorsoduro's artistic flair
Have an insider look at the peaceful and quiet district of Dorsoduro. This varied area is packed with art galleries and collections of medieval, modern and contemporary art, but also Venetian locals, students and university buildings.
VT5 — Cannaregio's airy streets and geometrical planned islands
Enjoy a virtual stroll starting from the Ghetto, the Jewish area in Venice, over to the less known gems of this among Venetians popular district, discover Tintoretto's dramatic aesthetics in the church of the Madonna dell'Orto and the history of hidden Venetian gardens back in the time of the Renaissance.
VT6 — Brunetti Tour
Would you like to learn more about Donna Leon's fictional hero police officer Commissario Guido Brunetti? This is the right tour for you.
VT7 — Customized Tour tailor-made on request
Choose your own 'red thread' through Venice and experience it on a virtual sightseeing visit. A tour will last 1 and a half hours. A short break is possible after 50 min/1 hour.
Don't hesitate to contact me
I enjoy explaining the glorious past history of Venice online, but also discussing present aspects of our daily life, sharing my local insider experience and leading you through the quieter backstreets into the real Venice!